LEARN ABOUT OUR
Formulated with chelated minerals for enhanced absorption and bioavailability to promotes normal enzyme function and supports overall mineral status in the body.
---
View full details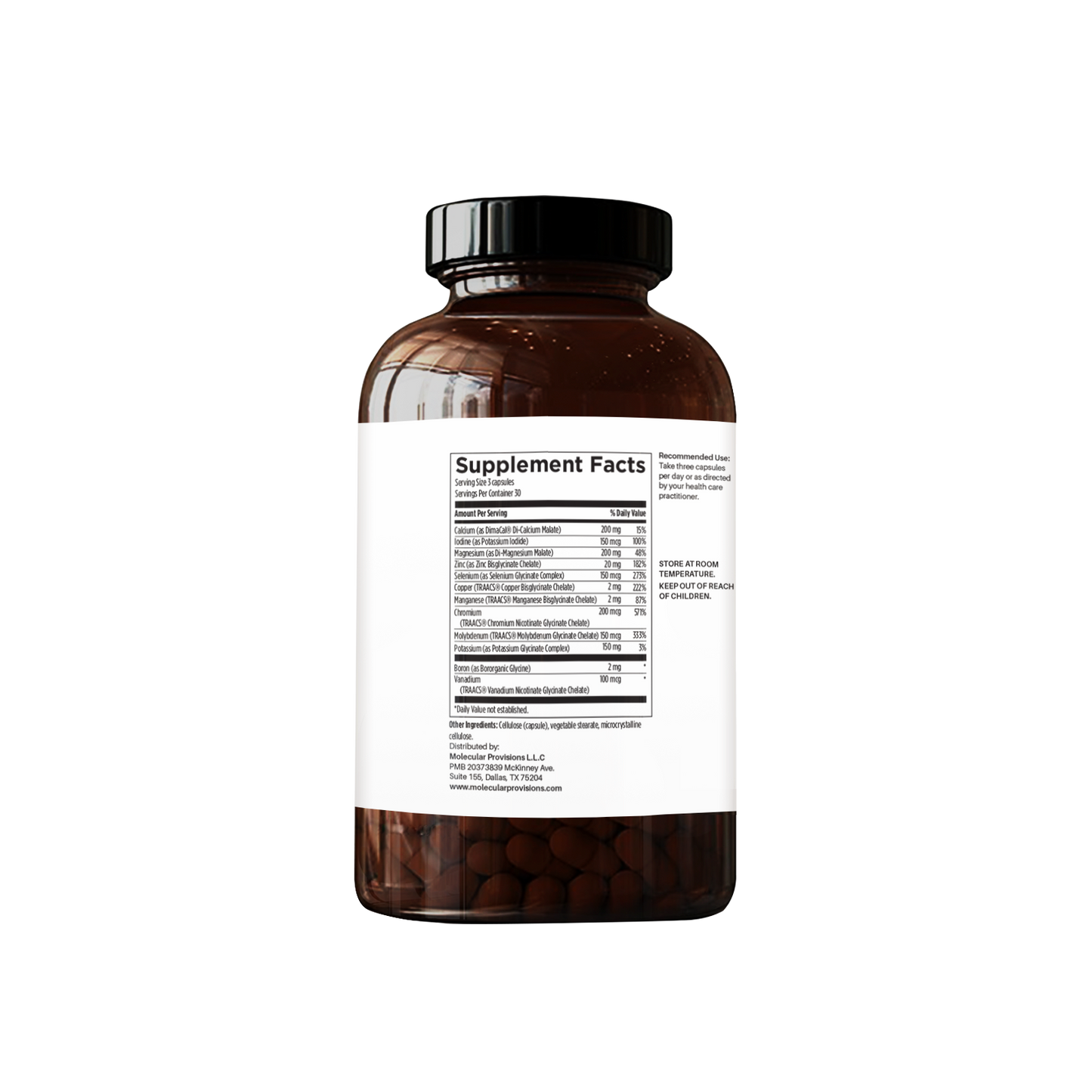 THE BEAUTY OF
HOW IT WORKS
---
Mineral Synergy+ works by providing the body with all of the essential minerals that are necessary for various physiological processes. Once consumed, the minerals are absorbed into the bloodstream and transported to various tissues and organs throughout the body. They are then used for many different functions, such as bone growth and maintenance, muscle contraction, nerve signaling, immune function, and enzyme reactions.
Minerals cannot be synthesized by humans and they must be obtained through consumption.
MORE INSIGHT ON
WHAT IT DOES
Mineral Synergy+ provides the body with essential minerals that are necessary for a wide range of physiological processes.
These minerals support many systems in the body, including the skeletal system, muscular system, nervous system, immune system, and cardiovascular system
Calcium (as Di-Calcium Malate)
Iodine (as Potassium Iodide)
Magnesium (as Di-Magnesium Malate)
Zinc (as Zinc Bisglycinate)
Selenium (as Selenium Glycinate Complex)
Copper (TRAACS Copper Bisglycinate Chelate)
Manganese (TRAACS Manganese Bisglycinate Chelate)
Chromium (TRAACS Chromium Nicotinate Bisglycinate Chelate)
Molybdenum (TRAACS Molybdenum Bisglycinate Chelate)
Potassium (as Potassium Glycinate Complex)
Boron (as Bororganic Glycine)
Vanadium (TRAACS Vanadium Nicotinate Glycinate Chelate)
LET'S TALK
BENEFITS
---
Supports overall health
Addresses deficiencies
Immune support
Supports cardiovascular health
Supports athletic performance
Supports bone health
Supports muscle function
Supports nerve signaling
Supports healthy blood pressure
Supports energy production