LEARN ABOUT OUR
Hormone Harmony+ is formulated to support hormonal balance by utilizing a synergistic blend of herbs and nutrients. It contains diindolylmethane (DIM), chrysin, black cohosh, and chaste tree extract, which work together to promote healthy estrogen metabolism and optimal hormone levels. Calcium-D-glucarate is included to aid in the proper elimination of excess estrogens, while additional nutrients and phytochemicals support the body's antioxidant status and normal detoxification processes. This comprehensive formula also features B vitamins, magnesium, resveratrol, epigallocatechin gallate (EGCg), and sulforaphane, all of which contribute to overall health and enhanced estrogen metabolism.

* Do not use if pregnant, or nursing
&nbsp
View full details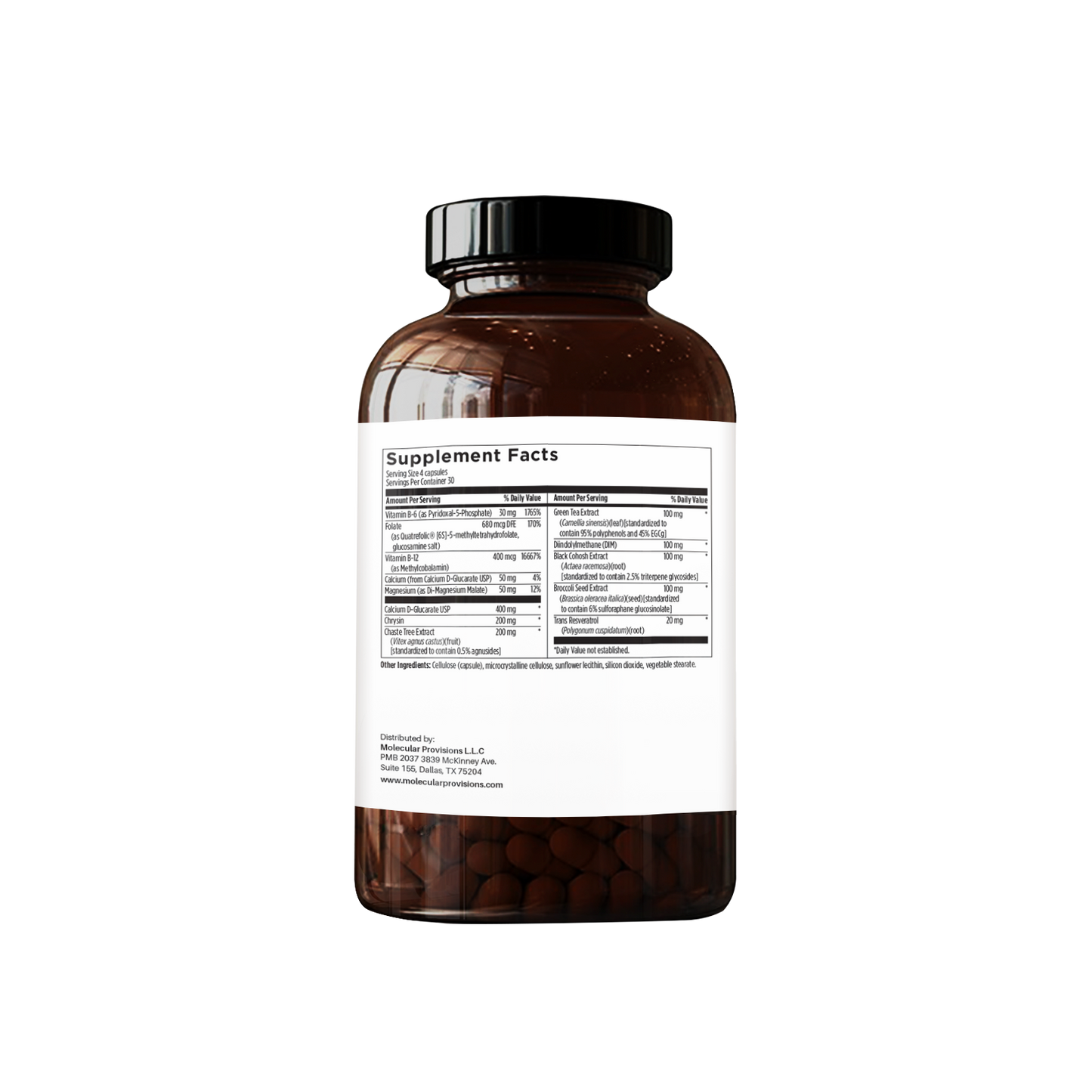 THE BEAUTY OF
HOW IT WORKS
---
Hormone Harmony+ is formulated to promote hormonal balance by combining a synergistic blend of herbs and nutrients. The key ingredients, including diindolylmethane (DIM), chrysin, black cohosh, and chaste tree extract, work together to support healthy estrogen metabolism and maintain optimal hormone levels. Calcium-D-glucarate aids in eliminating excess estrogens, contributing to a healthy estrogen balance. With the addition of B vitamins, magnesium, resveratrol, epigallocatechin gallate (EGCg), and sulforaphane, it works to enhance the body's antioxidant status and support natural detoxification processes.*
MORE INSIGHT ON
WHAT IT DOES
The benefits of Hormone Harmony+ extend beyond estrogen regulation. This supplement supports healthy estrogen metabolism, ensuring the proper functioning of the body's hormonal pathways. DIM plays a crucial role by promoting the production of beneficial estrogen metabolites while reducing potentially toxic byproducts. This helps to maintain estrogen balance and contributes to overall optimal health. Black Cohosh, another important component, supports hormonal balance, particularly during menopause, while also aiding in the production of neurotransmitters like serotonin and dopamine, which are essential for a healthy mood.
It also promotes a healthy inflammatory response, which is crucial for maintaining overall well-being. Additionally, Hormone Harmony+ aids in normal detoxification processes, assisting the body in effectively eliminating toxins.
In addition to these key ingredients, Hormone Harmony+ incorporates a range of nutrients and phytochemicals to further enhance overall health and estrogen metabolism. Calcium D-glucarate supports the clearance of estrogen and its potentially harmful metabolites, while chrysin inhibits aromatase activity, an enzyme responsible for estrogen synthesis, and promotes bone health. Chaste Tree Extract supports estrogen and progesterone levels while also promoting dopamine metabolism. The supplement also includes B vitamins, magnesium, resveratrol, epigallocatechin gallate (EGCg), and sulforaphane, providing comprehensive support for overall health and improved estrogen metabolism.
LET'S TALK
BENEFITS
---
Hormone Harmony+ is a supplement that offers multiple benefits for individuals seeking to support their hormonal balance and overall well-being. It promotes healthy estrogen metabolism, ensuring optimal balance and preventing imbalances. By supporting this crucial process, Hormone Harmony+ helps maintain hormonal equilibrium and prevent potential issues. Additionally, it aids in promoting a healthy inflammatory response, crucial for preventing disruptions in hormone levels and maintaining overall wellness. Moreover, the supplement supports normal detoxification processes by including specific nutrients and phytochemicals that assist in eliminating toxins, contributing to a clean and balanced internal environment. With its comprehensive approach to supporting healthy estrogen metabolism, promoting a healthy inflammatory response, and aiding in detoxification, Hormone Harmony+ is an excellent choice for those seeking to maintain hormonal balance and support overall health.