LEARN ABOUT OUR
Formulated with a potent blend of enzymes including lipases, proteases, and amylases + ox bile extract + 
betaine hydrochloride (HCl) to optimize the digestion of proteins, fats, and carbohydrates. This product also features powerful protease dipeptidyl peptidase IV (IVDPP), which effectively breaks down peptides such as gluteomorphin (from gluten) and casomorphin (from casein). Additionally, Digestive Enzymes+ contains lactase, an enzyme specifically designed to break down lactose, the sugar found in dairy products. By incorporating Digestive Enzymes+ into your routine before meals, you can find relief from post-meal gas, bloating, occasional constipation, and the discomfort of feeling full even after consuming a small amount of food.
&nbsp
View full details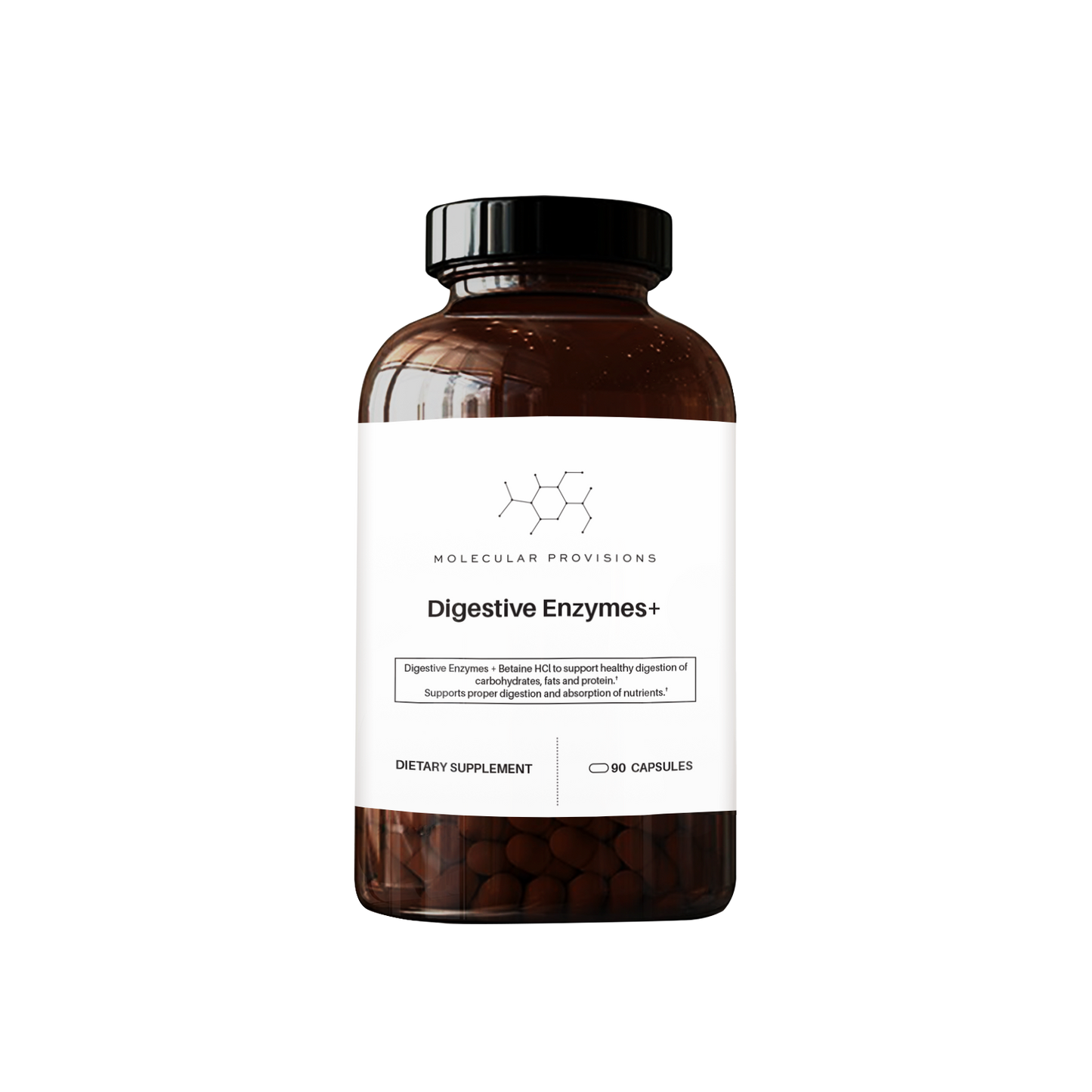 THE BEAUTY OF
HOW IT WORKS
---
Digestive Enzymes+ combines lipases, proteases, and amylases with ox bile extract and betaine hydrochloride (HCl) to optimize digestion. Lipases break down fats, proteases break down proteins into smaller peptides and amino acids, and amylases aid in carbohydrate breakdown. The inclusion of ox bile extract supports fat digestion and absorption, benefiting those with compromised bile production or gallbladder issues. Betaine hydrochloride (HCl) promotes optimal stomach acid levels, crucial for protein breakdown and enzyme activation. By providing a comprehensive blend of enzymes and supporting components, Digestive Enzymes+ improves nutrient breakdown and absorption, easing digestive discomfort, and enhancing overall digestive health.
MORE INSIGHT ON
WHAT IT DOES
When the digestive function is compromised, the body cannot fully harness the nutritional benefits of a well-balanced diet, regardless of its quality. Factors such as stress, aging, digestive disorders, medications, and other conditions can hinder digestion by affecting the secretion of stomach acid, pancreatic enzymes, and bile.
Digestive Enzymes+ aids in breaking down food into absorbable components, promoting optimal bodily function. By supporting digestion, Digestive Enzymes+ helps the body effectively utilize the nutrients it receives from food.
LET'S TALK
BENEFITS
---
Support for healthy digestion of protein, fats, and carbohydrates
Support for malabsorption and maldigestion